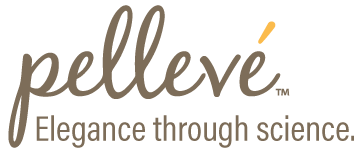 EVER WONDER HOW TO TIGHTEN LOOSE SKIN?
Advanced Skin Tightening with Pellevé
Loose/sagging facial skin, wrinkles and poor skin texture and tone can aid in an aged appearance, and can also lower self-esteem. Many people are opting for non-invasive procedures like Pellevé because there is no downtime, no sutures, no anesthesia and no scarring! The "Lunch Time" procedures are now here, and they are great! No more time off from work, or missed time with loved ones!
What is Pellevé?
Pellevé is a wrinkle reduction and skin brightening treatment that targets signs of aging in the skin with radiofrequency (RF) technology. This method of skin tightening uses a deep heat that stimulates the collagen production in your skin without damaging the epidermis. This revolutionary treatment is non-surgical and has virtually no downtime. The results are immediate as well as long term.
How does it work?
Pellevé precisely delivers energy to the dermal tissue using advanced radiofrequency technology to induce collagen contraction. Pellevé's unique radiofrequency technology emits energy in the form of electromagnetic waves, which creates a heated treatment zone. Increased resistance causes heat buildup at the sub dermal junction. Heat induces collagen denaturation and collagen contraction.
Am I a candidate for Pellevé?
If you have mild to moderate fine lines/wrinkles on your face and neck, then Pellevé could be a great choice for you! This treatment is for women and men that would like to improve the tone, texture and tightness of their skin in a natural and quick way. With no downtime, it fits perfectly into a busy schedule and our patients are raving about it.
What areas does Pellevé address?
Pellevé can address wrinkles, and brighten skin in the following areas:
Forehead
Cheeks
Jowls
Neck (sagging skin under chin)
Eyes (crows feet, under eye wrinkles, sagging skin above eye)
Nasolabial folds (smile lines)
Perioral wrinkles (lines around mouth)
Décolletage (chest)
How long does the treatment take?
Treatment times range from 30-60 minutes depending on the targeted area. A full face can take up to 60 minutes. More delicate areas such as the eyes, forehead or smile lines may only take 30 minutes. A series of treatments might be recommended depending on the desired amount of skin tightening. One of the greatest benefits of Pellevé is that the collagen rebuilding process will continue to work for months after your treatment(s).
What can I expect after the treatment?
After the treatment you might experience some redness and mild swelling that should subside prior to leaving the office, or within a few hours. You will notice that your skin will look brighter and tighter immediately after the treatment, however, in the following days might return to the state it was before you had the treatment. Don't get discouraged! During the treatment the (RF) energy that was put into your skin heated your collagen bundles causing them to contract. Cells known as fibroblasts were also targeted and heated causing new collagen to generate over the next 3-6 months. Additional treatments might be necessary to reach your skincare goal. A series of 3-5 treatments may be recommended to achieve optimal results and you should see your full improvement at 3-6 months after treatment.
Can I combine this with other treatments?
A complimentary consultation will be performed by the medical professionals at So Cal Body Institute. You and your provider will discuss your aesthetic concerns and skincare goals in detail and design a treatment plan specifically for you. Sometimes, not one aesthetic treatment will get you to your goal alone. Usually volume needs to be added and deeper folds in the face might need more correction.
To get started give us a call at 909-591-1414 or set up an appointment online.
We are committed to helping our patients reach their aesthetic and skincare goals!